New TENA Discreet Incontinence Pads
Do whatever you want. Be whoever you want
Whether you're lifting free-weights at the gym, practicing yoga, or simply going out for a run, you now have a new secret weapon that lets you achieve it all – with complete confidence and discretion.  
Featuring the unique instaDRY™ zone that captures and locks in leaks instantly, our new TENA pads have a thinner and more discreet front and back, a feminine top sheet design, and a quick wrap solution – helping you stay confident and enjoy life to its fullest.  
Don't leave home without it.
Keys, check. Wallet, check. Phone, check. TENA Discreet, check.  
Whatever your lifestyle may be, there are some things you always check for before you head out the door. By adding TENA Discreet to your list of daily essentials, you'll be prepared for every eventuality.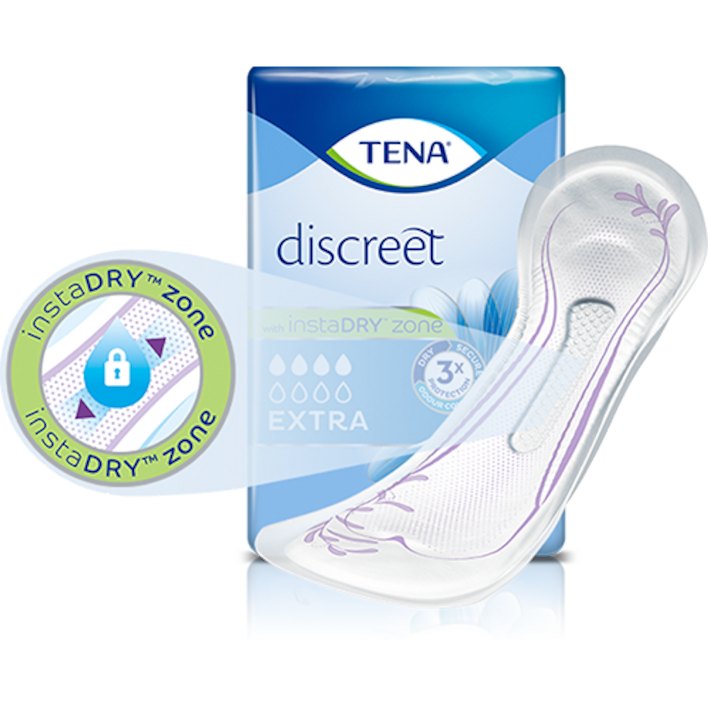 What is instaDry?
The toughest challenge for a pad is the ability to quickly absorb large amounts of liquid while being as discreet as possible. Our instaDRY™ technology is designed specifically to tackle that problem. By using fast absorbing materials, and by distributing liquid more evenly across the pad's absorption cores, the new TENA Discreet offers maximum security from less material. 
TENA Discreet
I will be me
I will not stop exercising. 
The new TENA Discreet with instaDRYTM zone. 
TENA Sustainability
More from less
As a step to halve our carbon footprint by 2030, the TENA Discreet pads – for medium to heavy bladder leakage – are produced from less materials, which allow for a thinner product and smaller packaging. As a result, this lets us optimise product transportation, thus reducing our environmental impact on the road. 
Triple Protection – Dry, secure and odour control.
From medium to heavy leaks, TENA Discreet Extra, Extra Plus, and Maxi covers it all. All our TENA pads also feature Triple Protection from leaks, odour, and moisture. See the full range and find the right one for you on our
product page
. 
Product benefits

Instant absorbtion with instaDry zone
The instaDryTM zone instantly draws liquid away from the skin and distributes it evenly across the pad for maximum comfort and security.

Discreet
Specially designed for women with , and featuring a thinner design both front and back for extra discretion.
Shop directly from the TENA store