Discover the smart Kegel Trainer Emy by TENA, designed for pelvic floor exercises at home.


Increase bladder control
Did you know that as little as five minutes of pelvic floor exercises a day can significantly reduce incontinence – or even make it go away?  

Postnatal recovery
Pregnancy and delivery place a tremendous strain on your pelvic floor. After childbirth, Kegel exercises are vital for restoring the tone of your
pelvic floor muscles
. Pelvic floor training after childbirth (and before menopause)) is important to prevent prolapse that may occur  later on.

Fight prolapse
One in three women suffer from Prolapse during
menopause
. Studies show that pelvic floor training strengthens the pelvic muscles, thereby providing better support for the genital organs and reducing the symptoms of prolapse.

Intimate well being
The stronger your perineum, the more sensation you'll feel during sex and, best of all, the better your orgasms will feel! 
Watch how to use Emy by TENA Kegel Trainer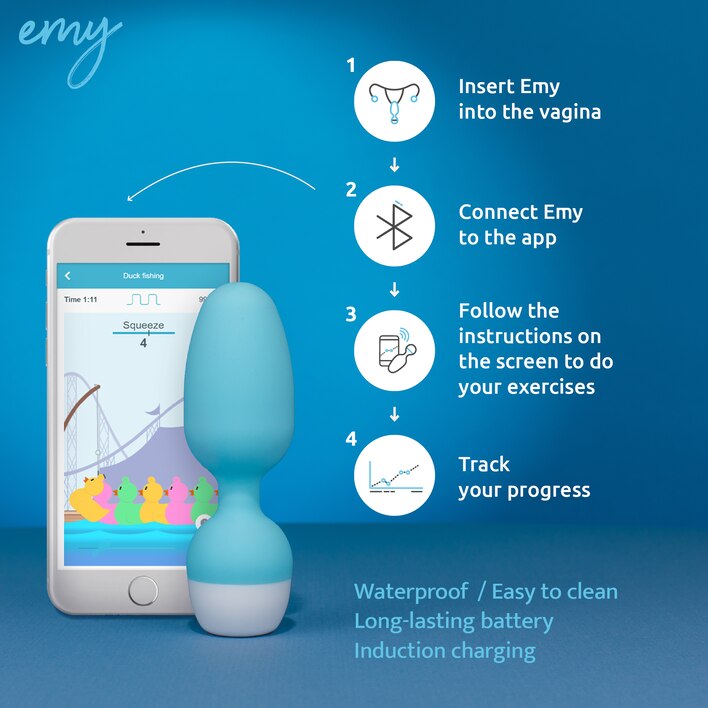 How it works
Insert the Emy by TENA Kegel Trainer into your vagina
Made from soft, medical-grade silicone, the Emy by TENA Kegel Trainer is easy to insert – with or without lubricant.


Connect Emy by TENA to the  app
The Emy by TENA Kegel Trainer connects to the Emy app, which you can download for free in Google Play or the App Store.


Start your Kegel exercises
The app suggests a personalised and fun training programme to meet your own specific training goals. Define the frequency and duration of your programme and activate reminder functions that fits your personal schedule.


Check your contractions in real time
Thanks to biofeedback, you can monitor your pelvic floor contractions directly in the app. Track and follow your personal progress!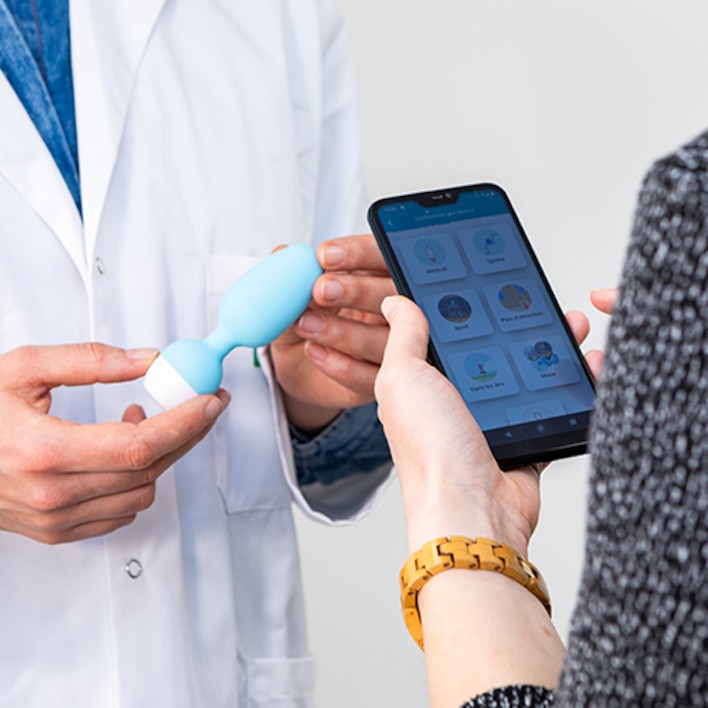 Developed together with Healthcare Professionals
96% of users are satisfied after the first use  
3/4 women feel improvements after 3 weeks of use 
84% recommended the Emy by TENA Kegel Trainer to their friends 
99% are highly satisfied after 6 weeks of use 
*based on customer satisfaction questionnaire provided in the Emy app 
"I noticed improvements from the 2nd week of use! I had back aches that have definitely improved since I started using Emy. "
Celine, 35, aka Maman Pavlova , Mom and Emy user
"I was looking for a fun solution to strengthen my pelvic floor - and I found it! "
Audrey, 41 , Mom of two and user of Emy
"The exercises were beneficial for everyone! My husband thanks you too! "
Catherine, 55 , Mom of three and Emy's user
Frequently asked questions
Is Emy by TENA easy to use?
Emy by TENA was conceived and designed by and for women with the help of health care professionals. Lightweight and compact, the Emy by TENA Kegel Trainer is made with soft and soothing materials for comfortable use. 
Emy by TENA is suitable for all body types. Its round design provides for outstanding comfort and allows you to even use the trainer while dressed. Emy by TENA is composed of a taller upper part that is inserted into the vagina and a round base to keep the trainer in place. 
You can use a water-based lubricant to make the trainer easier to insert.  
What are the advantages when I train my pelvic floor with Emy by TENA?
Emy by TENA is a certified medical device class I and therefore meets the highest quality standards. We believe in responsible production. Therefore, all our parts come from France, Germany, and Portugal. Furthermore, we verify the origin and quality of our materials to ensure our products are perfectly safe to use. 
Our Kegel trainer was developed together with doctors, midwives and physiotherapists. We have gained the trust of numerous doctors, physiotherapists and midwives who recommend our product to their patients. Our pelvic floor trainer was approved and validated in a clinical study at the Strasbourg Clinic for the treatment of stress

incontinence

. 
The patented sensor technology is the most sensitive currently available on the market due to its design and is therefore particularly suitable for women who suffer from a weak pelvic floor. The product has been designed for a long service life. 
The app offers a personal training programme of entertaining

pelvic floor exercises

. All exercises have been developed according to medical therapy procedures. Intelligent algorithms adapt the exercises to the patient's individual progress to ensure long-term success. Women can choose from over 20 different game worlds to keep them motivated.
How often should I use Emy by TENA?
There is no fixed rule.
The app offers a variety of programs to meet your own individual needs:
Keeping fit | Regular | Intensive | Customized
Can I use Emy by TENA while pregnant?
Congratulations on your pregnancy! We do not recommend using the Emy by TENA Kegel Trainer during pregnancy as this is not an ideal moment to strengthen your pelvic floor. 
Instead, you may wish to focus on awareness and relaxation exercises to ensure a smooth delivery.  
On the other hand, the Emy by TENA Kegel Trainer – a medical device developed and approved by health care professionals – is perfect after giving birth, if you want to strengthen your pelvic floor. 
Women usually begin Kegel exercises 6 to 8 weeks after delivery, once they have had their pelvic floor checked by a healthcare professional.
Can I use Emy by TENA with an IUD?
Sure, Emy by TENA is perfectly compatible with copper IUDs. Emy by TENA is a Kegel Trainer for the vagina while an IUD is inserted into the uterus. The two devices will not touch.
Can I use something to make Emy by TENA easier to insert?
A water-based lubricant can help eliminate any pain or irritation you might feel when inserting the Emy by TENA Kegel Trainer. You might also try coconut oil.
You should not feel pain when using Emy by TENA. If the pain continues even after using a lubricant, we recommend that you consult a healthcare professional.
How do I connect Emy by TENA to the mobile app?
Here are the steps for connecting the Emy by TENA Kegel Trainer to the mobile app:
Make sure Emy by TENA is fully charged before using it for the first time
Make sure Bluetooth is enabled on your smartphone
If you have an Android smartphone, you must also enable GPS in the location settings
Shake the trainer to turn it on and make sure the indicator light on the central part blinks for more than one minute
Open the mobile app, click on "Start an exercise," select the "Complete" offer, navigate through the screens, click on "I am ready," and the app should quickly connect to the trainer without any prior pairing.
If you already paired Emy by TENA with your smartphone, please remove the trainer in your phone's Bluetooth settings. The Emy by TENA Kegel Trainer automatically connects to the app without any prior pairing.
Does my personal data and information remain confidential?
All your data within the app remains strictly confidential and secure and is never shared.
Is Emy by TENA safe to use?
Emy by TENA is a fully waterproof medical device made of biocompatible, medical-grade materials. It is perfectly safe and meets an extremely strict set of medical standards and requirements.
Emy by TENA is designed and manufactured by French professionals in association with partners based exclusively in Europe.
How do I clean Emy by TENA and its charging case?
Emy by TENA is extremely easy to clean. Simply wipe it with mild soap and water (do not use abrasive products). For hygienic reasons, Emy by TENA is perfectly smooth and 100% waterproof. It can therefore be completely immersed in water. As a precaution, however, we recommend that you do not use the Emy by TENA Kegel Trainer in water (bathtub, sea, etc.). 
If you are prone to infections, clean Emy by TENA before and after each use with a pH-neutral antibacterial cleaner designed for intimate accessories. 
Make sure the trainer is completely dry before storing it in its case.
Do not use the trainer in extreme cold or heat (below 0°C/32°F or above 40°C/104°F).
If the trainer goes unused for long periods of time, recharge it every 2-3 months (at least) to make sure it remains in good condition.
To clean the charging case, simply remove the trainer and wipe the case with a disinfectant wipe. Do not immerse the case in water or store it in extreme cold or heat (below 0°C/32°F or above 40°C/104°F).
How do I charge?
Simply place the device in the charging box and connect the USB cable to the charger and to a USB socket. The blue light on top of the probe will light up in a fixed way. When this light is off, the battery will be fully charged.
How long does it take to charge?
The charge takes about 2 hours from an empty battery.
What is the guarantee for the product?
What is in the box?
The complete kit consists of: 
Emy by TENA biofeedback Kegel Trainer 
Free Mobile app Emy with full access to all functions 
Charging and carrying case 
Micro-USB cable 
Quick Start Guide to help you get started